The future of Fallout 76 is looking bright.
Bethesda announced some big plans for Fallout 76 at the recent E3 showcase. And it got me really excited about Fallout 76 again.
Earlier this year, Bethesda revealed its content roadmap for 2021, which included some great content. And now we have more content to expect in 2022 as well.
Here's a quick rundown of everything we know so far.
2021 Content Roadmap
Here's the content roadmap for 2021.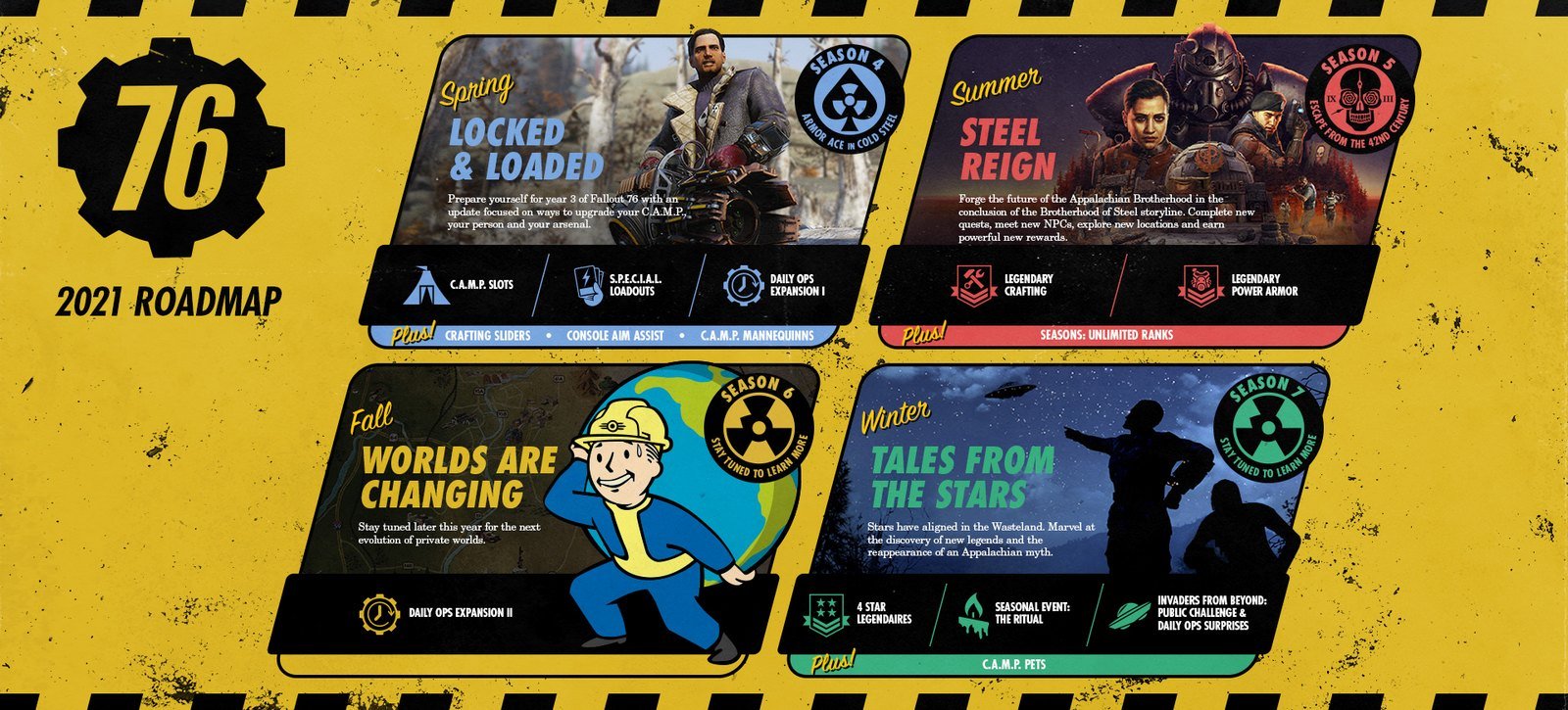 We already received SPECIAL loadouts and CAMP slots in the Sprint update. There's more to come.
Steel Reign update will drop in the Summer with a new season. More info on that below.
In the Fall update, we'll get an expansion to Daily Ops along with an "evolution to Private Worlds".
Winter update will bring CAMP pets, four-star Legendary Weapons and Armor, and an "all-new out-of-this-world event".
More Brotherhood of Steel Content
If you've finished the main Brotherhood missions in Fallout 76, you can expect to continue that journey in the new Steel Reign update.
This update continues the Brotherhood of Steel storyline with a battle between Paladin Rahmani and Knight Shin.
The new update will be available on July 7th. Free for all players.
There will also be a Brotherhood-themed event leading up to this update called Coming Storm from June 15 to July 6.
Expeditions in 2022
Bethesda also announced a brand new game mode for Fallout 76 called Expeditions.
The first mode called Expeditions: The Pitt will arrive in 2022 taking players to Pittsburgh from Fallout 3.
It's unclear whether this is a co-op mission-based mode or an expansion. I'll update the post as I get more information.
One thing's for sure, it's a great time to be a Fallout fan. It's the biggest MMO on Xbox right now. And good things are coming.
[Via Bethesda blog]