Fishing is one of the best ways to earn some quick money in Stardew Valley.
It's also one of the toughest aspects of the game.
I absolutely hated fishing in Stardew Valley. But it's something you've got to do at some point in the game, especially when building the community center.
Somehow I've managed to get a little better at fishing. This guide is all about my experience and how you can also catch fish as well as how to use bait in Stardew Valley.
Let's jump in.
How To Fish In Stardew Valley
Fishing in Stardew Valley is tough. You have to time it perfectly and keep clicking away to catch fish.
But, fishing gets easier as you level up your Fishing skill. Here's how I managed to get to it.
Step 1: Get the Training Fishing Rod
The default fishing rod you get, Bamboo rod, is not the best tool for catching fish when you're just starting out.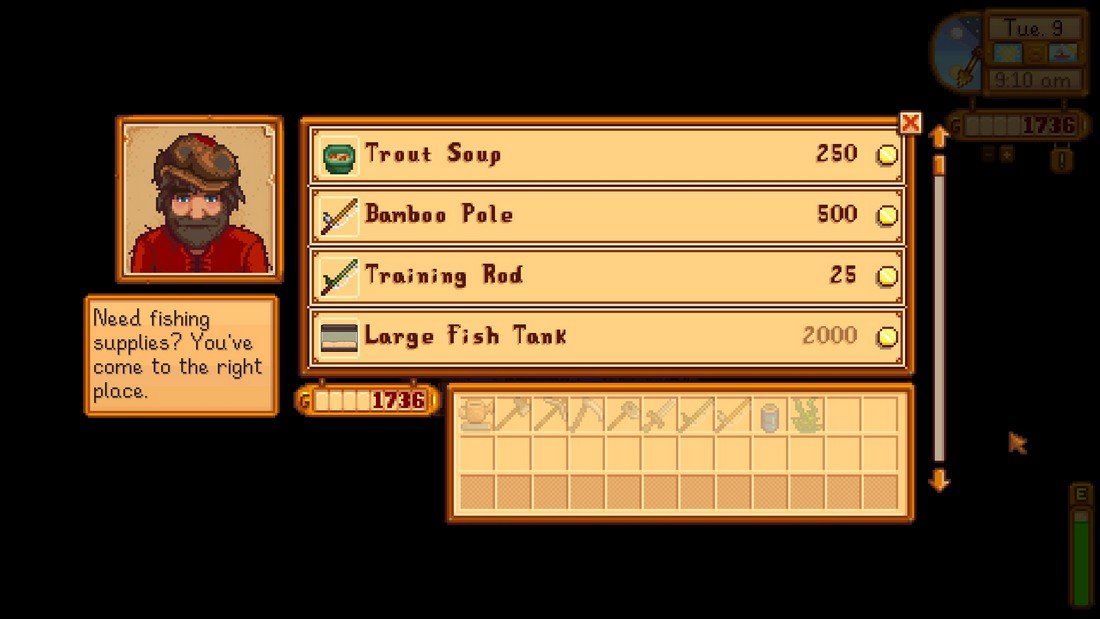 So first head over to the Willy's Fish Shop and buy the Training Fishing rod. It only costs about 25 coins.
Use this training rod to practice fishing. It's easier to catch fish with this rod so you can learn to time your clicks or button-pressing to catch fish more easily.
Step 2: Switch to Bamboo Rod
Once you've got the hang of fishing, switch to the Bamboo rod. You'll notice that it's much easier to fish with the Bamboo rod once you practice with the Training Rod.
Step 3: Tips for Fishing
You'll also notice that sometimes you only catch trash and junk.
There are two reasons for this to happen. In my experience, if you go fishing too early in the morning or late at night, you'll have less chance of catching fish. And most of the time you'll pull in trash.
Your timing of the initial throw is also important. Make sure to get that casting bar to the max to increase your chances of catching fish.
To catch fish faster, you can also use bait.
How To Use Bait in Stardew Valley
Using bait reduces the time it takes to catch fish by 50%. So if you want to catch more fish with minimum button pressing, start using bait. Here's how it works.
Step 1: Reach Fishing Level 2
You can't use bait with your ordinary Bamboo rod. You'll need a Fiberglass fishing rod for this task.
Fiberglass rod unlocks when you reach Fishing level 2.
So keep fishing with your Bamboo rod until you hit Level 2 fishing.
Step 2: Get Fiberglass Fishing Rod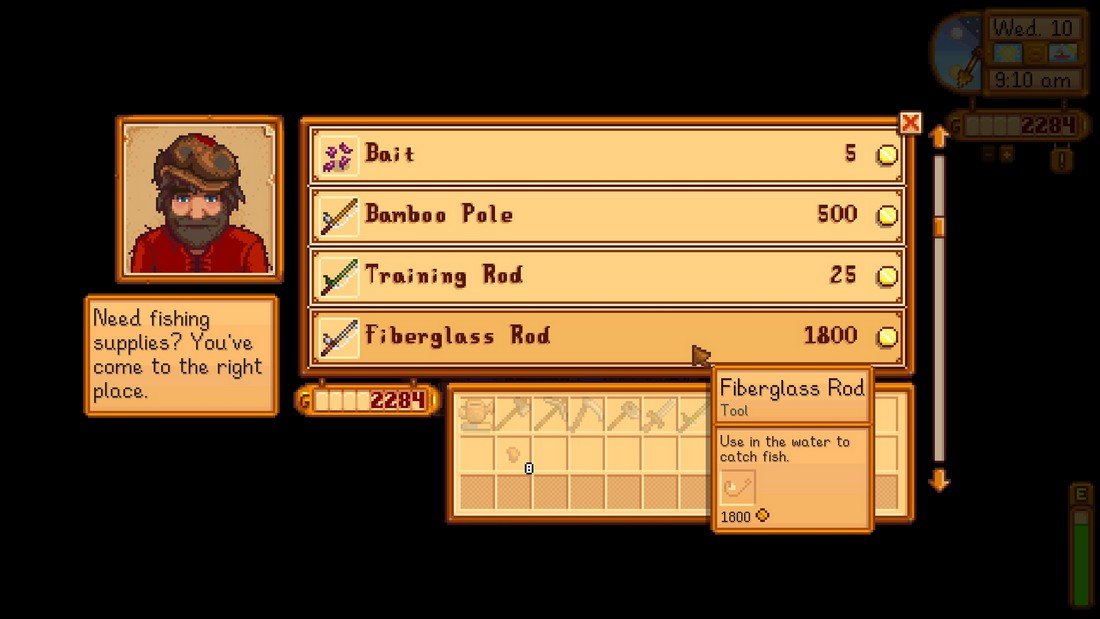 Once you reach Fishing level 2, go to the Fish Shop and buy the Fiberglass rod. It costs around 1800 coins.
Catching fish is much easier too.
Step 3: How to Put Bait on Fishing Rod
You can also buy bait from the Fish Shop now. Or you can craft them as well.
To use bait, first buy a few baits from the shop. It cost 5 coins each.
Attaching bait to your fishing rod is the tricky part. To do this, first, open your inventory. You can't do this from the action bar.
From the inventory page, use the action key to select bait. It's the right mouse button on PC, X on Xbox, Square key on PS, and Y on Swich.
Then tap the action key again on the Fiberglass fishing rod. This will attach bait to the rod.
You can also attach the whole stack to the fishing rod at once as well.
I've made a quick video tutorial on how it's done as well. Have a look.
Stardew Valley Best Fishing Spots
There are also specific spots in Stardew Valley where you can have a better chance at catching fish. Here's a few spots that are worth checking out.
Fishing shop at the Beach
Pier at the beach
Near Leah's cabin
Near Jodi's house
That's all folks. Hope you found the guide helpful. See you next time!