One of the best features of Warframe is its player-run economy. In Warframe, you can trade, buy, and sell items to make your gameplay experience much more fun.
Of course, if you're new, it can be a bit difficult to get started with trading right away and figure out how the process work to avoid getting into scams.
In this guide, I'll walk you through the steps of how the trading system works, how to buy stuff cheaper, and sell items you don't want.
How To Trade In Warframe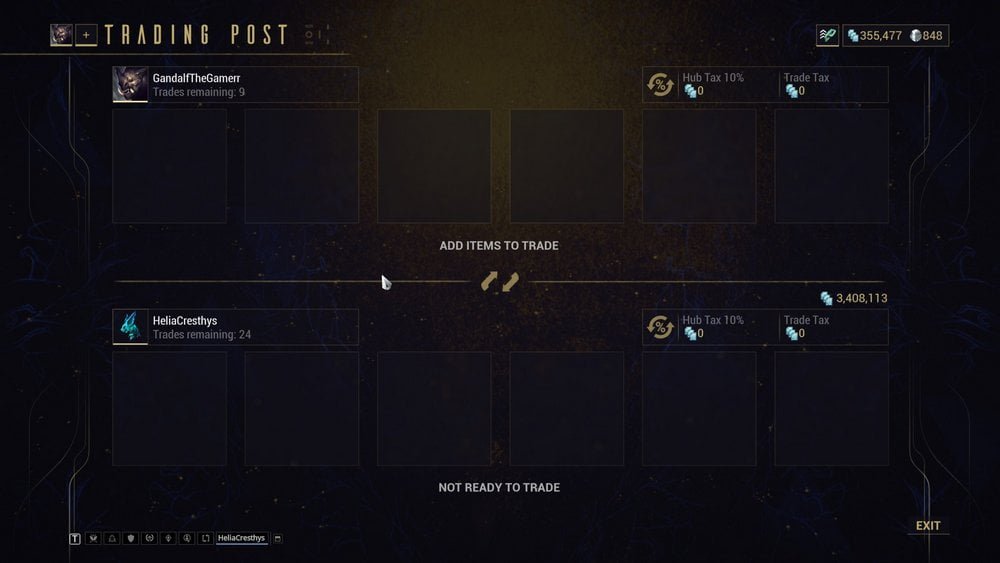 There are two ways to trade items in Warframe. You can either go to Maroo's Bazaar on Mars to trade publicly with someone. Or you can use the trading post in your Clan Dojo to trade safely.
You get access to your Clan Dojo when you join a clan. If you don't have a clan yet, you can find one quite easily using the in-game chat. Or you can use Warframe Discord or Reddit channels as well.
Using the trading post in the clan dojo is the safest way to trade items. Maroo's Bazaar often gets crowded and it can be difficult to find your trader in this crowd and not to mention the lag is quite frustrating as well.
Platinum is the in-game currency used to buy and sell items in Warframe. You can buy Platinum with real money or earn them through in-game activities.
Read this guide to learn how to earn platinum for free by completing in-game activities.
Warframe Trade Chat Terms
In order to find items to trade, buy, or sell, you need to use the in-game trade chat. Open the chat window using the T key on your keyboard and switch to the trading tab.
At first sight, you'll notice that people talk in a weird coded language in this chat. That's because they use terms to describe their items and purpose without having to clutter or spam the chat window.
Here are the main trading terms you need to be aware of :
WTB: Want To Buy
WTS: Want To Sell
WTT: Want To Trade
PMO: Private Message your offer
Use [ ] brackets when mentioning an item
Here's an example: WTS [Equinox Prime] for 200p This means I'm selling the Equinox prime set for 200 platinum.
If you're not sure which amount of platinum you want to sell or buy an item, simply enter PMO at the end and people will reach with their own offers.
Cheapest Way To Buy Items In Warframe
One of the easiest and cheapest ways to buy items in Warframe is to use the Warframe Market website. This is an unofficial website that players use to sell items more easily without having to use the in-game trading chat.
You'll find that most of the items on Warframe Market are much cheaper than the items being sold in the in-game trading chat.
To use the platform, all you have to do is search for the item you want and copy the chat code for contacting the seller. Then paste that text anywhere in your in-game chat and hit Enter. The seller will then get in contact with you.
How It Works
To show you how it's done, I'll walk you through the process step by step using the trading chat as an example. Check the video for visual context or follow the steps below.
Open trade chat window by pressing T key
Type in the item you want to buy (eg: WTB [Loki Prime] for 200p)
Wait for sellers to reach you with offers
Negotiate a deal
Visit your Clan Dojo and go to the trading post
Invite the seller to your clan dojo
Once the seller is in your dojo go to the trading post and initiate the trade
Place your Platinum on the top section
Wait for the seller to place the items in his section
Wait until the seller has confirmed the items
Now confirm and accept the trade
That's it! Now you can access your inventory to find the items you've just bought.
Conclusion
Hope this guide helped you get started on trading in Warframe. Keep an eye out for the trading chat to grab items for cheap. You can also use trading and turn it into a business. I'll show you how it works in a future guide.