Do you ever feel like running your own pizza shop? Making delicious pizza with delicious toppings? Making money? Upgrading your shop? Well, Good Pizza Great Pizza will help you to start your own pizza shop and fulfill your customer's orders, at least in a video game.
Good Pizza Great Pizza is a single-player restaurant management game available for Android, iOS, Microsoft Windows, macOS, and Nintendo Switch.
It's a simple and fun game. But if you are new to cooking and simulation games, it's difficult to make a perfect pizza without a bad review or blame of customers.
In this post, I will show you some easy tips for Good Pizza Great Pizza, that I used myself. So let's dig in.
1. How To Make A Great Pizza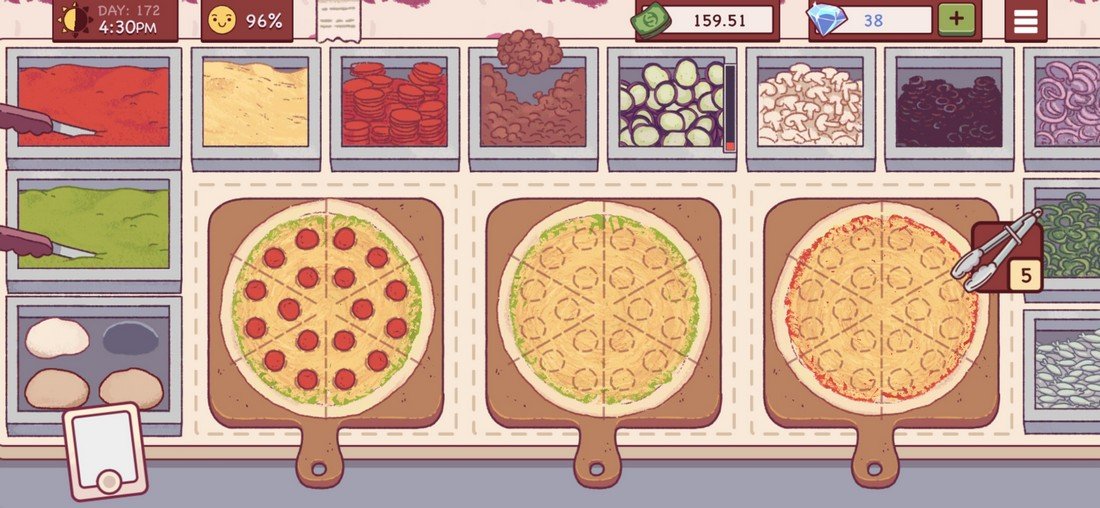 All the things that can continue your pizza business is depending on the pizza you make. If you make a perfect pizza, you can get a big tip as well, and if you failed you will lose money.
The most important thing is the topping. Whatever the customer asked, you need to spread the topping evenly on the pizza. The easiest way is to spread 18 pieces from a variety.
For example, if your customer asks for a pepperoni pizza, you need to spread 18 pepperonis evenly on the pizza. You can spread 12 pieces in the outer circle and 6 pieces in the inner circle of your pizza.
You can also add topping assistance by spending your gems. It will reduce the time you spend spreading toppings and you can automatically spread topping evenly by using the topping assistance.
Also, putting too many toppings all around the pizza may be a negative point for you to reject your pizza, and also it may lose your money.
If you can little bit creative when you are putting toppings on the pizza, your customers will definitely tip on you.
2. Keep The Patience Of The Customers
The patience of your customers is totally on your hand.
If you ask "What?" from your customer when he/she places the order, it will reduce their patience.
You need to speed up your pizza-making process and should clearly catch up on the details of the customer. It will help you to protect the patience of your customer.
As mentioned earlier, you can use the topping assistance to reduce the time you spend making a pizza.
3. Customer's Details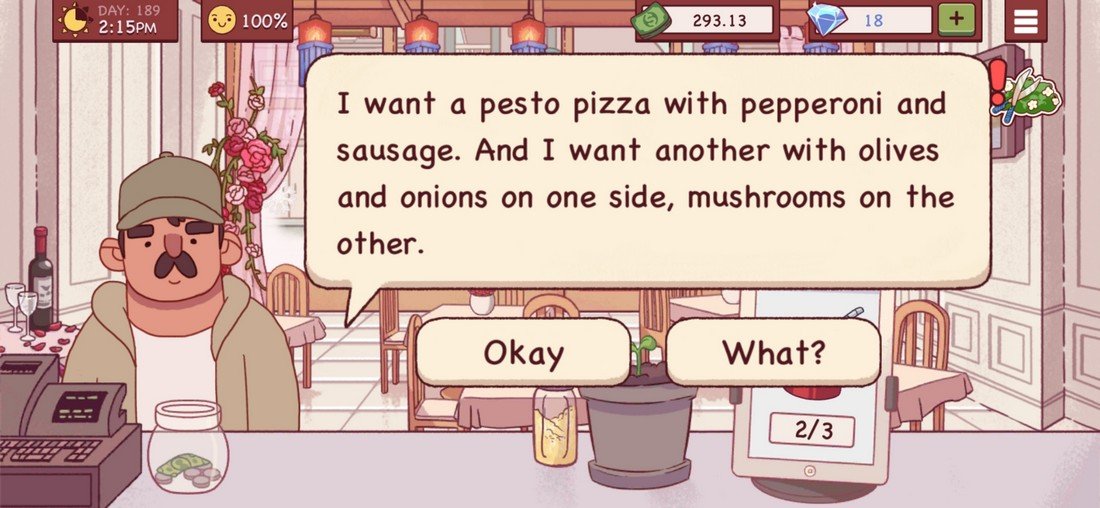 The details mentioned by the customer when they place the order are really important if you need to continue the game.
Learning the details of the customers is a little bit tricky but when you play the game you can gradually learn it.
Some customers may ask for 3 pizzas with different toppings. For instance, a customer can ask for vegan, meat and cheese, and fruit pizza.  It's a little bit confusing but you need to check the small note on the top of your screen in any case if you forget the details.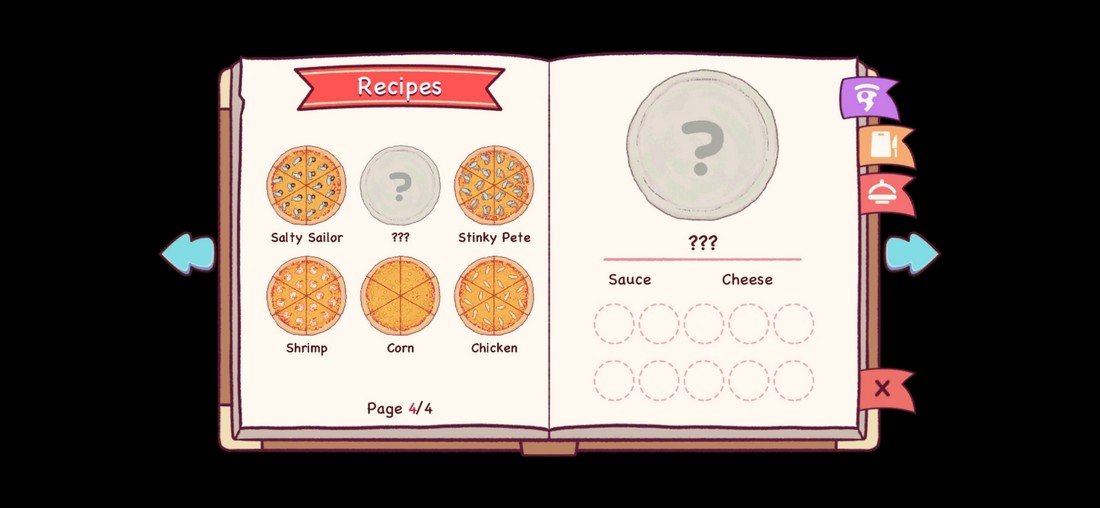 Also, you can check the recipe book, if you are not sure about the ingredients. For instance, if you are confused with "Salty sailor" you can check the recipe book and find out you should add anchovies and olives to make a salty sailor pizza.
4. Stick To The Special Terms
There are lots of confusing and different terms mentioned by the customers. You need to know the exact meaning of those terms before you accept the order. Otherwise, you have to refund the customer for the wrong order.
I have listed out some of those tricky terms. Have a look
"I'm lactose intolerant" – needs everything without the cheese.
"Pizza that looks like the sunrise" – Just sauce and cheese.
"Well done" – put the pizza in the oven two times
"Three P Pizza" – put all the toppings starting from P like Pepperoni, Pineapple.
"O combo"    – Onion and olive
5. Help The Poor People
Sometimes, poor people can come to your shop for asking pizza. They may not have money or sometimes less money.
You can decline the order but I suggest you accept the order. You don't need to add all the ingredients but you can give a sauce and cheese pizza. I'm pretty sure the poor person will pay you back one day.