One of the coolest things you can do in Sims 4 is you can train your sims to acquire many skills.
Among those skills, gardening is my favorite.
In this post, I'll show you how the gardening skill works and how to plant seeds in Sims 4, which is the initial step of your gardening skill.
So let's begin.
Why To Plant Seeds?
Planting seeds is the first step you take to acquire the gardening skill for your sims.
Also, your sims can earn extra money when you plant seeds and sell the harvest.
If you have a Sims 4 seasons expansion pack, you have a gardener career option as well.
Planting seeds can also improve some other skills such as charisma skill. When your sims can talk with plants, they can increase their charisma skill levels.
So, planting seeds can help you to acquire gardening skills as mentioned earlier and earn extra money apart from your career, and increase your tasks and promotions in the gardener career.
What Do You Need To Plant Seeds
You need only a few things to plant seeds in Sims 4.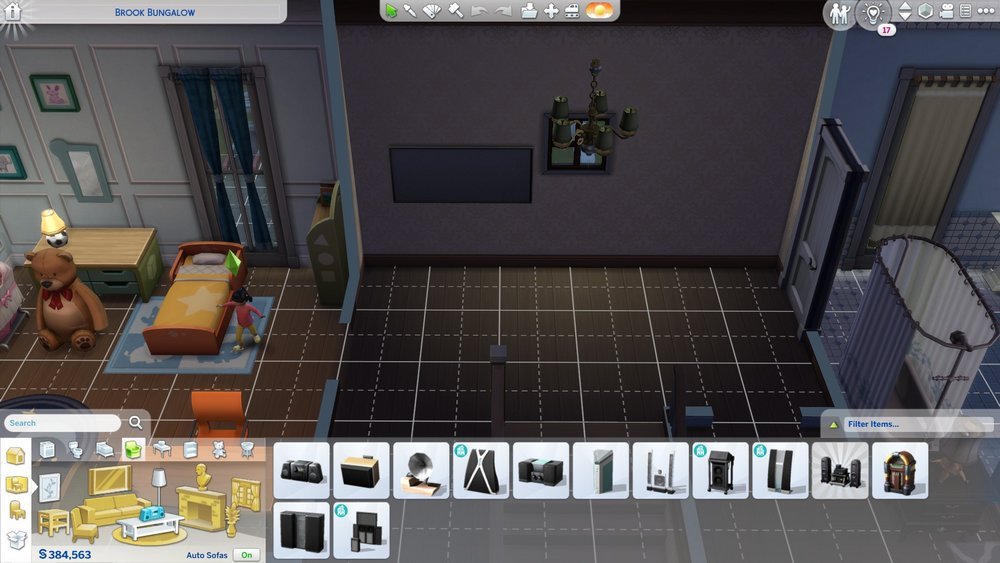 First, you need to buy a pot or garden planter box for planting seeds. You can buy those by clicking on the build mode, objects by room, outdoors, and outdoor activities.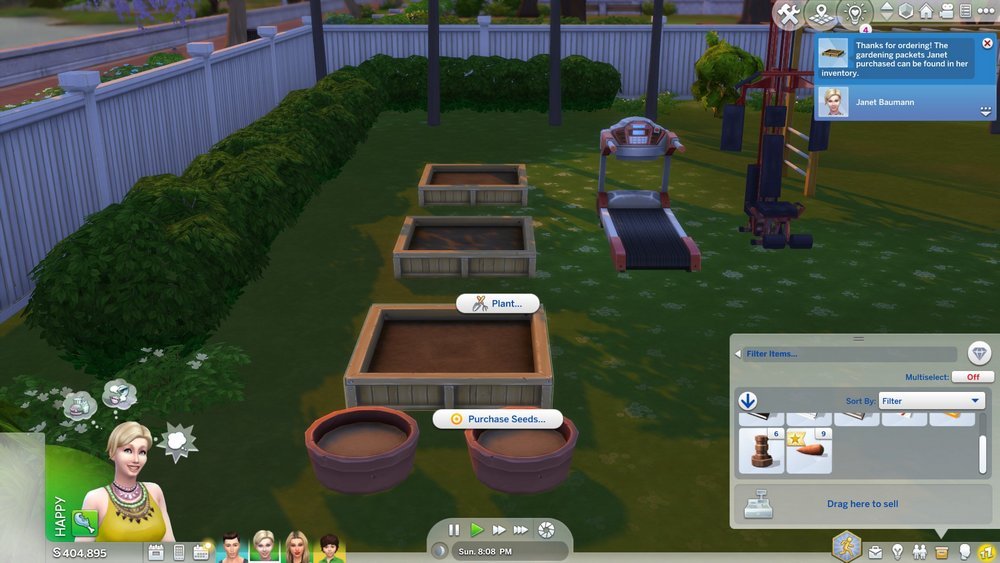 Then, you need to buy seeds. You can order seeds using your sim's phone or computer. Or the easiest way is to click on the pot or garden planter box and you can see an option to purchase seeds.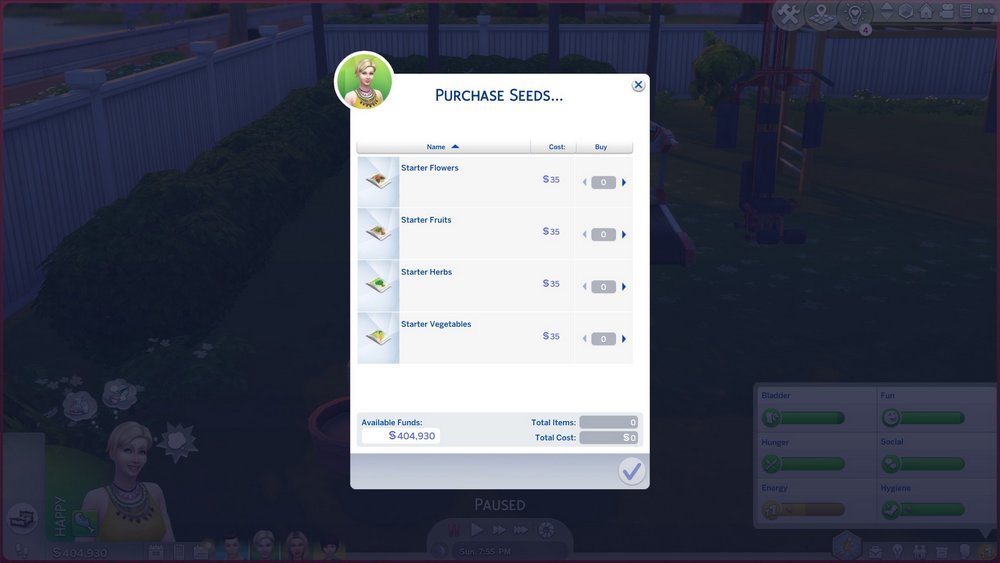 Then you can click it and order starter flowers, starter fruits, starter herbs, or starter vegetables.
How To Plant Seeds
After you purchase seeds, you can see them in your sim's inventory. You need to click on those packets and open them.
Then you can click on your pots or garden planter boxes to plant them.
After planting seeds you can water them by clicking on them.
Keep in mind to harvest or sell the fruits or the items you planted at the right time because if it is not, your plants may dispose of.
Adding fertilizers and watering are not daily tasks. When you click on the water option, after you click on the plant, you can see if the plants need water or not. Also,  if your plants need them, you can see they are dry.
How To Level Up Gardening Skills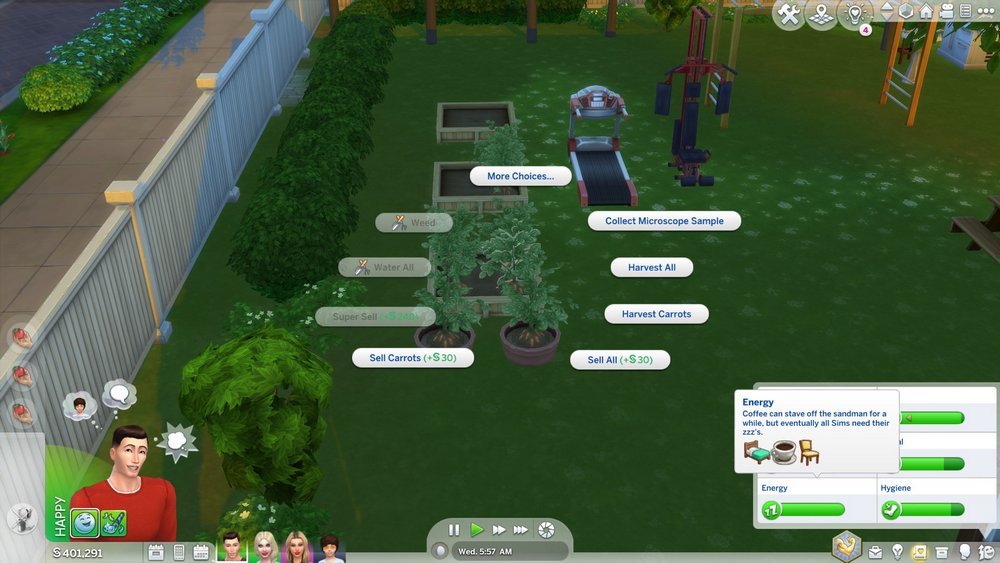 When your sims watering, fertilizing, harvesting, or selling, their gardening skill levels increase.
During gardening level 1, they can plant, harvest, water, weed, sell plants and buy starters easily.
In level 2, your sims can research plants using a computer or click on the plants, water areas at once, and evolve plants.
In level 3, sims can fertilize plants.
In level 4, sims can talk to plants, and harvest area at once.
Also, level 5 can take a cutting of plants, and grafting plants, which means you can cut off a piece of one plant and graft it to another.
In level 6, sims can weed the area at once.
Your sims can buy uncommon and farmer's seeds packets, and spray for bugs during level 7.
Overgrow bonsais and supersell plants can also do in level 8.
In level 9, sims can tend gardens, which means they can water and weed the area at once.
At the final level, your sims can buy rare seed packets, and finally, they are mastered in gardening.
In order to increase their gardening skill, your sims can read books about gardening as well.
In Conclusion
Planting seeds is an easy task in Sims 4. You need only a few things and you can earn more by selling the harvest.
I use the gardening skills of my sims to increase their extra income. While they are doing their jobs, they plant seeds and look after them. At the end of the day, they earn more money from gardening. Sometimes it is more than their salary.