One of the best things about Genshin Impact is that even though it's a free-to-play game, it still allows you to earn premium content, like characters, without spending any money.
And yes, you can get Wishes for free by earning Primogems in Genshin Impact.
In this quick guide, I'll show you how you can earn Primogems to buy Wishes and unlock cool weapons and characters.
Without spending any money, of course.
What Are Wishes and Primogems in Genshin Impact?
Before we get to the details, it's important to understand what these Wishes and Primogems really are.
So, in Genshin Impact, you unlock new characters by using the game's Gacha system. This is like the loot-box systems in online games. This system is called Wishes.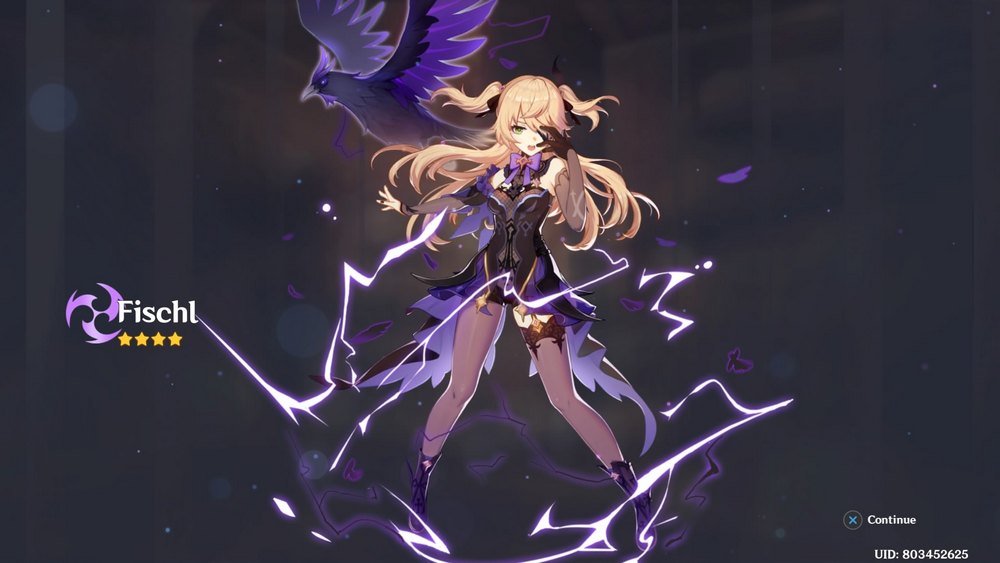 Wishes are used to unlock characters and weapons in Genshin Impact. When you use a Wish, the game will randomly give you a weapon, resource, or character. You don't have control over what you get.
However, if you use 10 Wishes at once, you'll get a guaranteed character drop.
You can trade Primogems, an in-game currency used in Genshin Impact, to buy a resource Intertwined Fate and Acquaint Fate. These can be used to get Wishes.
How To Get Primogems
You need to first earn Primogems before you can get Wishes.
Thankfully, you can earn Primogems for free by playing the game. Here's how.
Method 1: Check Your Mailbox
miHoYo, the developer behind Genshin Impact is very generous with Primogems. They often send you Primogems for free whenever when releasing a new update to the game.
And even when they take servers offline for maintenance, they give players up to 300 Primogems for free.
These free rewards can be found in your Mailbox.
So be sure to check your mailbox often to see if you've received any free Primogems.
I once logged into the game after a short break and I had over 1200 Primogems in my inbox for free!
Method 2: Login Rewards
Genshin Impact will occasionally give away free Primogems as login rewards.
Although, this type of reward only happens during events and random occasions. It's not always reliable but it's an effortless way to earn Primogems.
Method 3: Do World Quests
Doing World Quests is another great way to earn Primogems for free.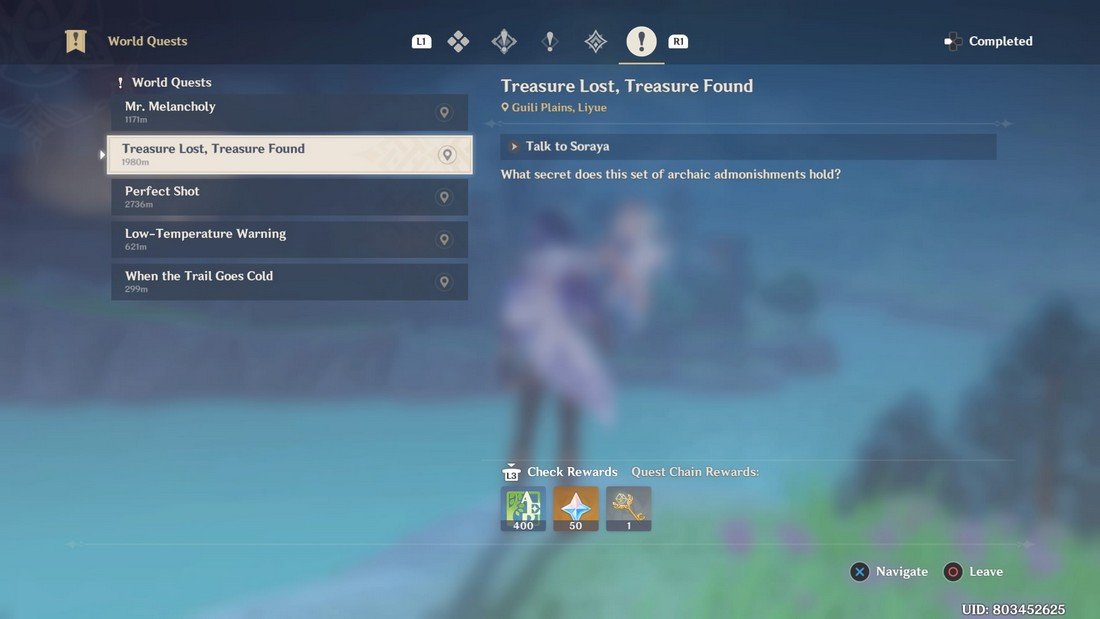 On your quest page, switch over to World Quests to see what kind of quests you can take on. Some quests will reward you up to 50 Primogems.
Method 4: Do Daily Commissions
One of the easiest ways to earn Primogems is to do the Daily Commissions. These give you both Primogems and XP.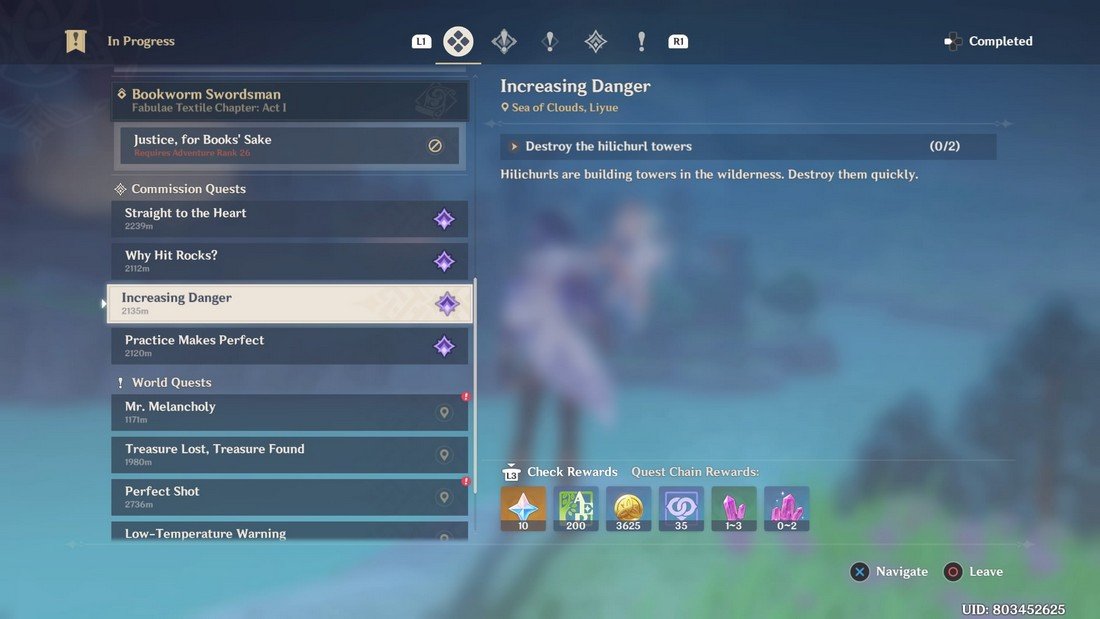 Doing all 4 daily commissions will get you 40 Primogems and then a bonus 20 Primogems for completing all commissions for the day.
Commissions are really easy tasks you can do in just a few minutes. So remember to do them every day.
Method 5: Complete Investigations
In your Adventure Handbook, look for Investigations that you still have to complete.
When you complete an investigation, you'll get 100 Primogems as a reward.
These Investigations are a bit difficult to complete and take time. But remember to keep an eye on them when you're playing.
Method 6: Complete Achievements
If you're an achievement hunter, you can also use them to earn some Primogems.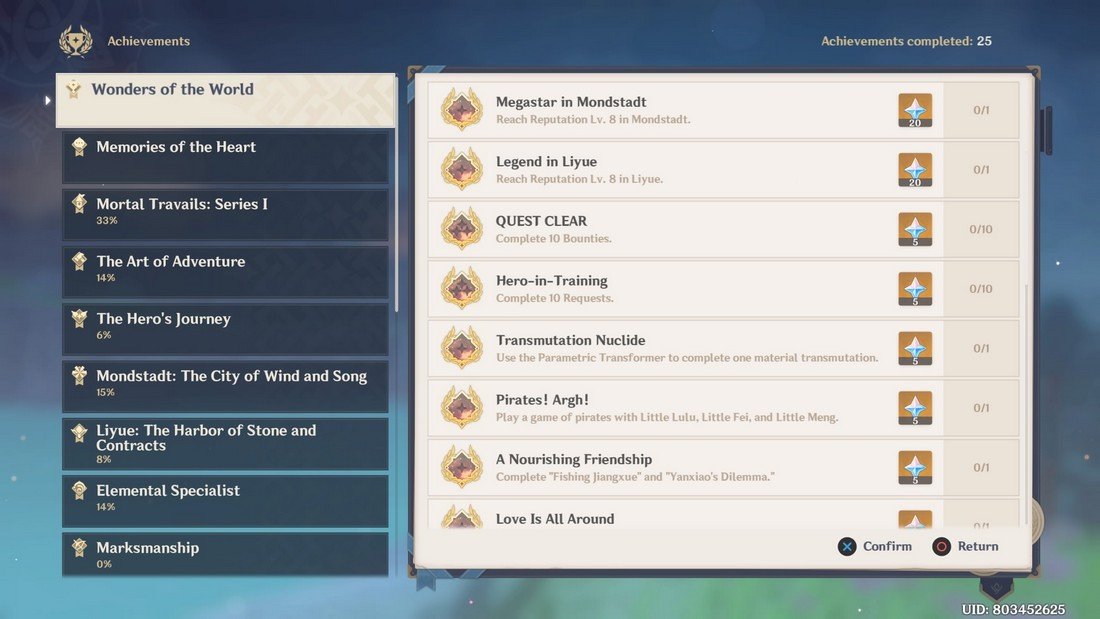 You can earn up to 20 Primogems for completing an achievement in Genshin Impact.
Some achievements reward higher amounts of Primogems while others give small amounts.
Method 7: Open Chests
Opening chests you find while in free-roam can also reward you with small amounts of Primogems.
It's very small, like 5 or 10 Primogems, but still, it's worth trying while you're on the way to other missions.
How To Get Wishes
Once you've earned some Primogems, you can use them to buy Intertwined Fate or Acquaint Fate. Be sure to check the Wishes page to see which type is required to unlock your desired Wish.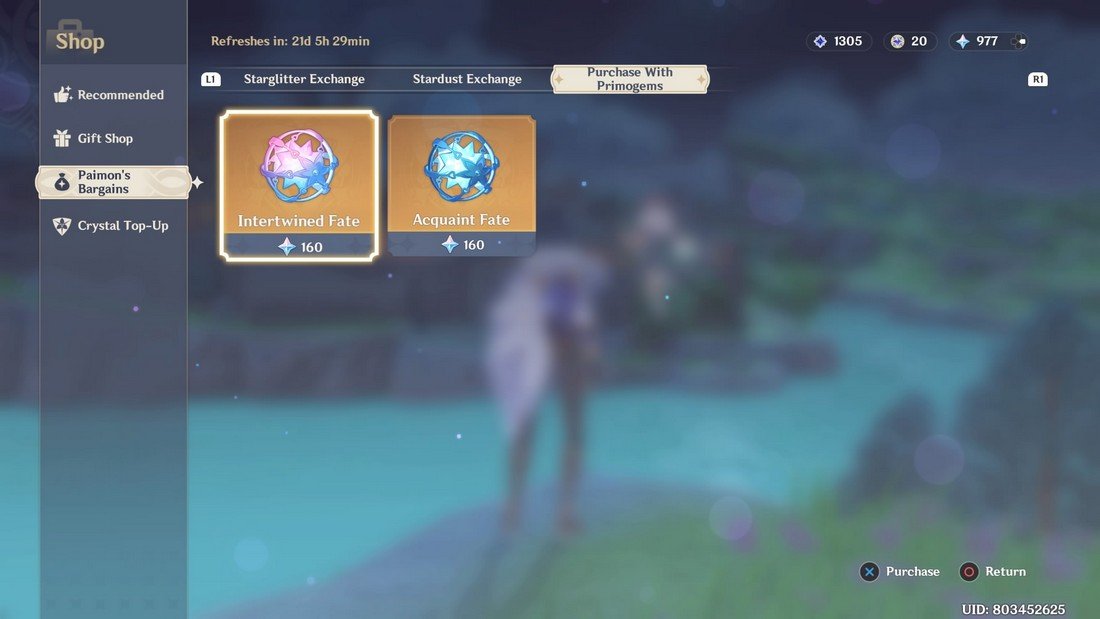 First, go to the Shop and head over to the Paimon's Bargains page. And then switch over to the Purchase with Primogems page.
From here you can buy  Intertwined Fate and Acquaint Fate for about 160 Primogems each.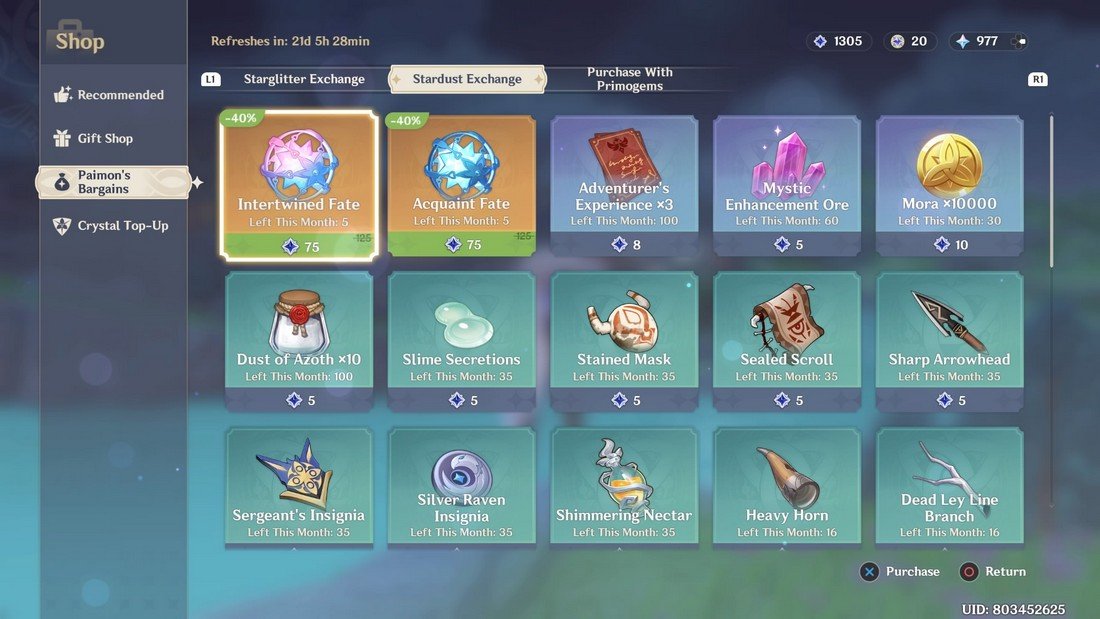 If you have Stardust, another currency you can earn from in-game activities, you can trade them for Intertwined Fate and Acquaint Fate on the Stardust Exchange page.
Now you can use Intertwined Fate and Acquaint Fate to buy Wishes.
Head over to the Wish page and turn in your Intertwined Fate or Acquaint Fate to get your desired Wish package.
Over To You
I recommend that you save up enough Primogems to get 10 Intertwined Fate or Acquaint Fate. This way you'll have a guaranteed character drop. I haven't had luck getting characters from single Wishes so far.