There are many activities you can do in Dinkum such as farming, hunting, and mining. But fishing is my favorite activity in the game.
It's not only one of the relaxing things to do in Dinkum but it's also a great way to make money quickly.
If you are a beginner, the best way to earn money fast is by fishing. In this guide, I will show you how to fish in Dinkum like a pro.
Get The Right Equipment
Step 1: Get the fishing license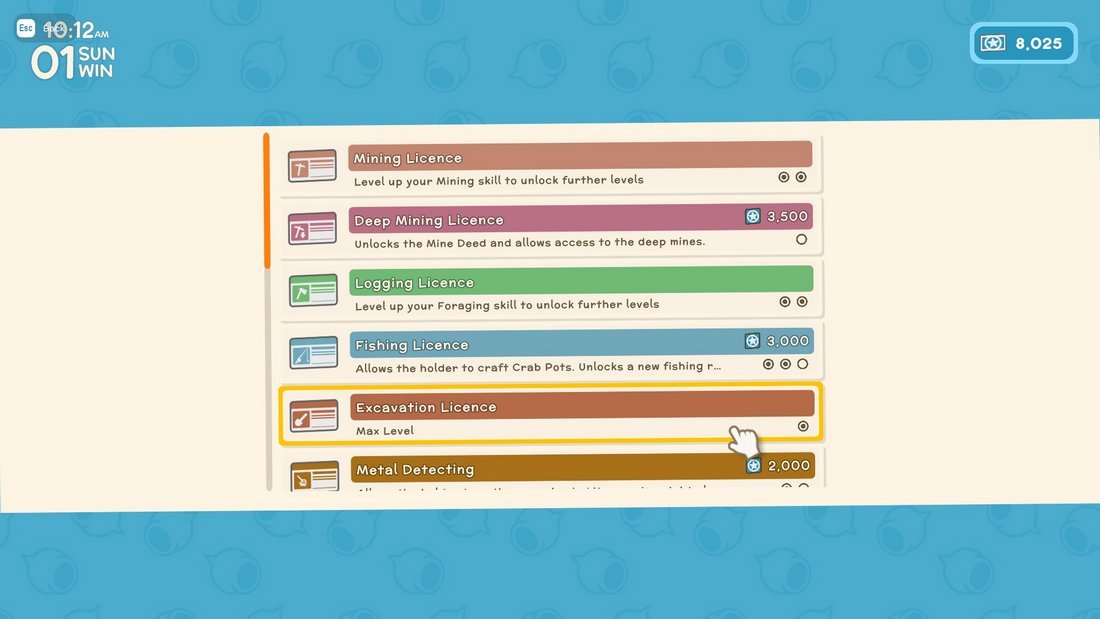 Once you have landed on the island, you can place your camp and the base camp. After that, you can meet Fletch and purchase a Level 1 fishing license for 250 permit points. Fletch usually lives in the base camp. You can talk to her and buy the license.
The most important thing about this game is you must purchase a license before starting any activity like mining, fishing, etc.
Step 2: Buy a fishing rod
On the second day, John the merchant visits the island. You can meet john every day from 7 a.m. to 4 p.m. once you have purchased the fishing license, you can buy a fishing rod for 1260 Dinks from John.
Keep in mind, if you use the fishing rod often, it will be damaged and you can buy a new one from John again.
Step 3: How To Upgrade Fishing Rod
At level 5 of the fishing, you can take the level 2 fishing license from Fletch as before, for 1000 permit points. Once you have purchased it, you can craft a copper fishing rod and you can see the bubbles of the underwater creatures as well.
You can create the copper fishing rod using the craft table placed inside the base camp, using 2 copper bars and 1 fishing rod.
Also, at level 10 of fishing, you can purchase a level 3 fishing license from Fletch for 3000 permit points.
Once you have purchased the level 3 fishing license, you can craft a crab pot and an iron rod. You can craft an iron rod using your craft table with 1 copper fishing rod and 2 iron bars.
How To Start Fishing
Now you have all the requirements for fishing and you are ready.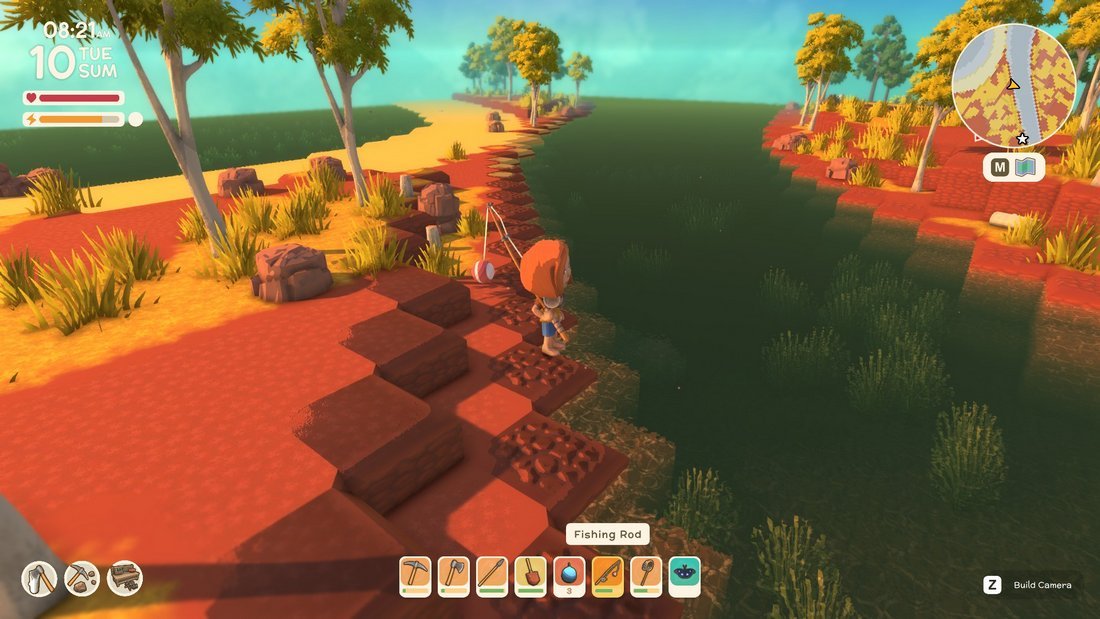 You can select a place for fishing such as the ocean, pond, or river, on the map. There are many fish varieties in each water body. You can slowly find each of them.
Keep in mind to eat well because if you work hard, your energy level will be low. Plus, there are many crocs around the water bodies, if they attack you, your energy and health level will be low and you will be passed out. Also, keep some bush lime, banana, apple or any other fruits or foods with you always.
First, you can find your fishing rod in the toolbar, and select it. Now, you are holding your fishing rod.  Once you have noticed fish swimming inside the river, you can aim the rod for fish and release it by pressing and holding the left click. You can throw the bobber for a further distance, you can long press the left click.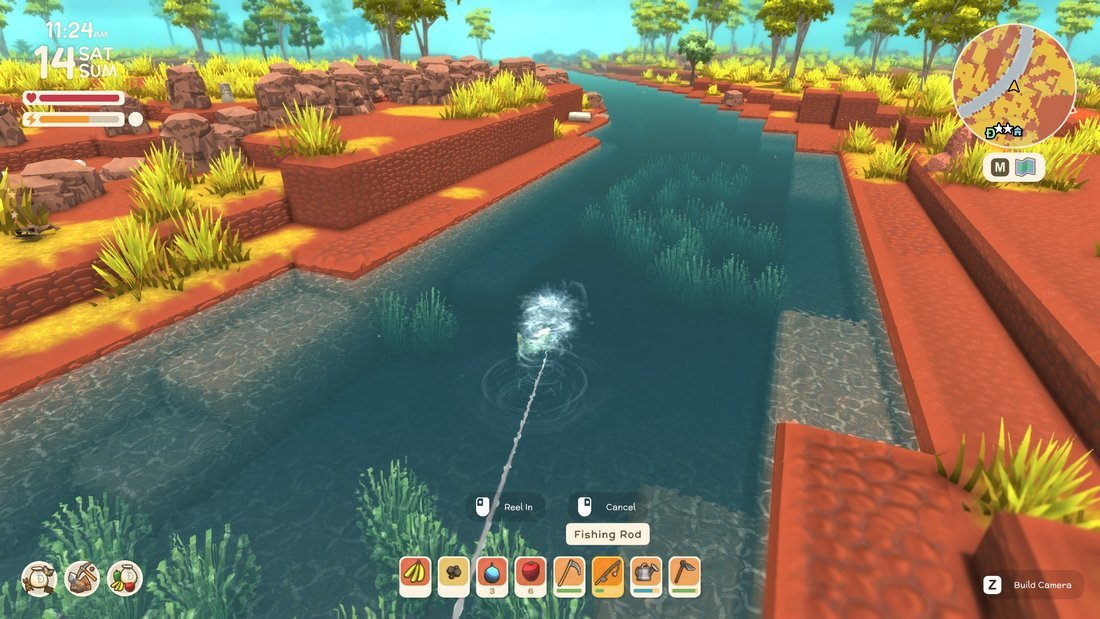 After you have thrown the bobber, the fish will come and swim near the bobber. Eventually, the fish will nibble the bobber. You can see the bobber is pulling by fish. Do not reel it now. Just look at the bobber carefully.
At the first, second, or third attempt of the fish, you can see a loud "Thud" sound from the bobber with a splash of water. At the moment, immediately reel it using the left mouse button. Do not stop clicking the left button and continuously press it.
Now the fish is struggling to release. You can see it by splashing water and pulling the bobble by fish.
When you continuously click the left button, your rod will pull the fish towards you and after that, you will catch fish.
What To Do With The Fish?
Now, you caught a fish. But what you can do with a fish? There are many uses for fishing in dinkum.
First, you can donate fish to the museum.
Secondly, you can sell it to John. this is the easiest way to earn dinks if you are a beginner.
Also, you can sell fish to Ted selly for a huge amount of dinks.
Sometimes, some NPCs request to bring them fish, when you asked them for a need.
Also, you can put fish in a fish tank for display.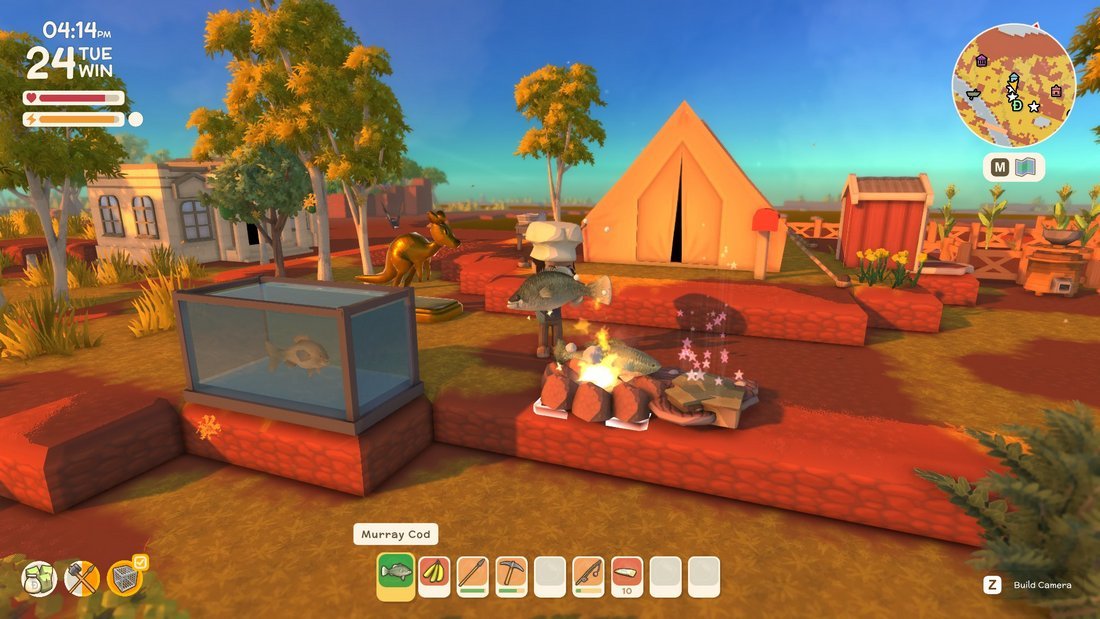 And, you can cook fish on a campfire or BBQ to make cooked saltwater fish and cooked freshwater fish.
In Conclusion
As you can see, fishing is not very hard in Dinkum. Also, fishing is the best way to earn little extra money for beginners, especially when they start to pay the debt.